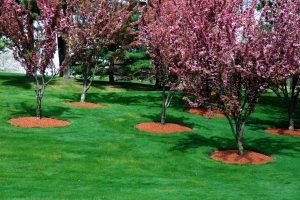 Seeding your lawn is the easiest way to establish a new landscape, but it also requires patience and dedication. Before seeding your lawn, considering the seeding time, rate, and method of seeding is necessary. Perhaps one of the most important aspects to consider is seed quality.
When you are choosing seed for your lawn, you should take the time to do your research. Florida laws require that each container of seed lists vital information, such as turfgrass species, purity, and weed content. While you are making your purchase, you should review each tag carefully and only purchase seeds that have a purity level of at least 90% and a germination level of at least 85%. Many contractors tend to buy seed that doesn't have as high of a purity and germination percentage and it shows in the landscapes they create. If someone else is installing your landscape, consult with them to make sure you are receiving the best seed available for your landscape.
Once your seeds have sprouted and your lawn is established, you can hire the team at Southern Green to take care of your landscape. We offer North, Central, and South Florida lawn care services, including pest control, lawn aeration, and fertilization services.