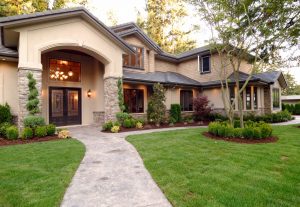 You may not think about it often, but lawn aeration is an essential part of taking care of any landscape. When you aerate your landscape, you can rest assured that your lawn will look great and be the envy of all of your neighbors. Here are some tips to help you see if your lawn needs to be aerated:
Always Aerate Heavy Traffic Areas – Whether you have a lot of people driving on your landscape or have kids who are frequently playing in the backyard, you should be aerating the lawn regularly. Even a lawn mower can compact your soil. You can tell it's time to aerate when your grass starts to look thin.
Test the Lawn – There is a simple test to help you tell when it's time to aerate your landscape! All you have to do is take a pencil or screwdriver and shove it into the soil. If it's hard to get the pencil or screwdriver down, then your soil is definitely compacted and you will need to aerate.
Puddled Water – Have you noticed water puddles on your lawn? This means that the soil is very compacted and the water is unable to get into the ground. If it's staying on top of the lawn, then you know that your roots are not receiving the water and air they need.
If you are ready to aerate your lawn, you can call the professionals at Southern Green. We provide lawn care aeration services throughout the state in Jacksonville, Orlando, Tampa, and South Florida.