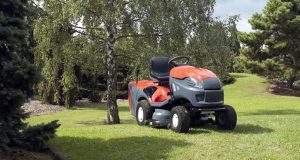 Whenever we cover grass choices, it's important to understand that as great as a turfgrass may seem, there are also disadvantages that go along with it. Before you establish a bahiagrass landscape, there are some disadvantages you should consider.
One of the most common complaints about bahiagrass is that it is not as dark green and dense as other popular Florida turfgrasses. In fact, this grass is known to form ugly, large seedheads throughout Spring, Summer, and Fall. Because of this, you can count on spending more time mowing your lawn.  You will also need to make sure that your lawnmower blades are always sharp- bahiagrass is known to be tough. Other common issues people have with this grass include its coarse texture, poor performance in high-pH soils, and susceptibility to the growth of weeds in sparse areas. Before making a decision to invest in bahiagrass, you should speak to a professional about your landscape to see if this grass is right for your needs.
Establishing a great lawn can take a lot of time, effort, and money.  That's why it's so important to choose a reliable provider that will help you keep up with your investment. Let Southern Green provide amazing services for your property, including North, Central, and South Florida lawn care services. Review our services and discover what our team can do for you!