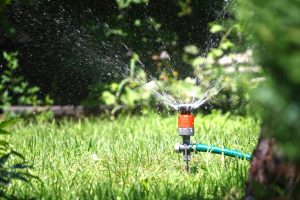 Now that your seeds are spread, it's time to put them in the ground. You can lightly cover them by working them into the soil with a rake. If possible, you should topdress the area with a quarter inch of soil. Once the seeds have been worked into the ground, with good contact between the seeds and the soil, we recommend mulching the area with weed-free grass, hay, or straw.  It's best to cover at least 50% of the ground in an effort to protect the soil and new seeds. The mulch will help to keep moisture in the ground, keep the seeds from washing away, and prevent the soil from getting too hot.
Once this process is complete, you want to make sure that your seeds are kept moist through proper watering techniques. You should water the grass with a small amount of water at least two to three times a day for two weeks to germinate the seeds, but be careful not to overdo it.  Overwatering can put your new seeds at risk for disease.  As you notice the seeds and root systems developing, you can decrease the watering. Eventually, your landscape will be nice and green!
After growing your lawn, invest in your landscape with help from Southern Green. Our team provides lawn care in St. Petersburg, FL, in addition to Tampa, Miami, Jacksonville, and Orlando.