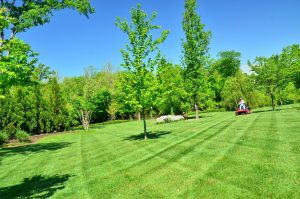 Designing a distinct lawn starts with the selection of a distinct grass. Although it has been in the US for hundreds of years, seashore paspalum grass has only been marketed as residential turf since the mid to late 1990s. It is a warm season grass that is native to tropical and subtropical regions across the world. Many people are already using this grass for their homes, so why should you choose it when starting a new lawn? Here are some great benefits of seashore paspalum grass:
Seashore paspalum is known for producing a dense, dark turf grass that has a relatively low fertility inputs. In fact, it has mostly been marketed for golf and athletic use.
This grass is very tolerant to saline, recycled water, wear, and reduced water input. It should be noted that while it can go without water, it still needs regular watering to keep it green.
It is tolerant to long periods of low light. If you are dealing with prolonged cloudy or rainy periods, you won't have to worry about your grass dying.
Seashore paspalum produces a dense root system, which keeps it strong and gives it a good tolerance to most stressors.
Are you interested in learning more about this great turf grass? The team at Southern Green is here to help! We provide quality North, Central, and South Florida lawn care services for your home.