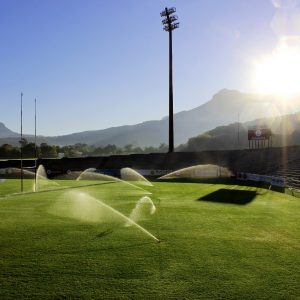 Everyone knows that having a beautiful lawn means making sure that it is watered properly, but it's knowing your grass and the volume of water it truly needs that can make the difference between a thriving green backyard and excessive thatch. The science behind how water helps your lawn (and other plants) grow is pretty interesting – and important knowledge for anyone taking care of a garden or landscape.
Perhaps most importantly, water is necessary for photosynthesis. When water combines with light and carbon dioxide, photosynthesis gives the plant the necessary carbon for growth and storage. Water also helps cool the plants in the hot sun in a process called transpiration. When it comes to grass, water helps it withstand wear, soil problems, and high temperatures, as well as issues related to nutrient deficiencies. It's vital to make sure that you properly irrigate your lawn – water is good for your landscape but too much of watering is usually the cause of lawn failure.
You can make sure that your landscape is healthy and green when you choose lawn treatment services from Southern Green. From lawn aeration services to dealing with pests, we are ready and willing to transform your lawn into a relaxing, beautiful place for you and your family. Contact us today to learn more about our lawn treatments. Our business provides lawn care in Jacksonville, FL, Orlando, and many South Florida cities.